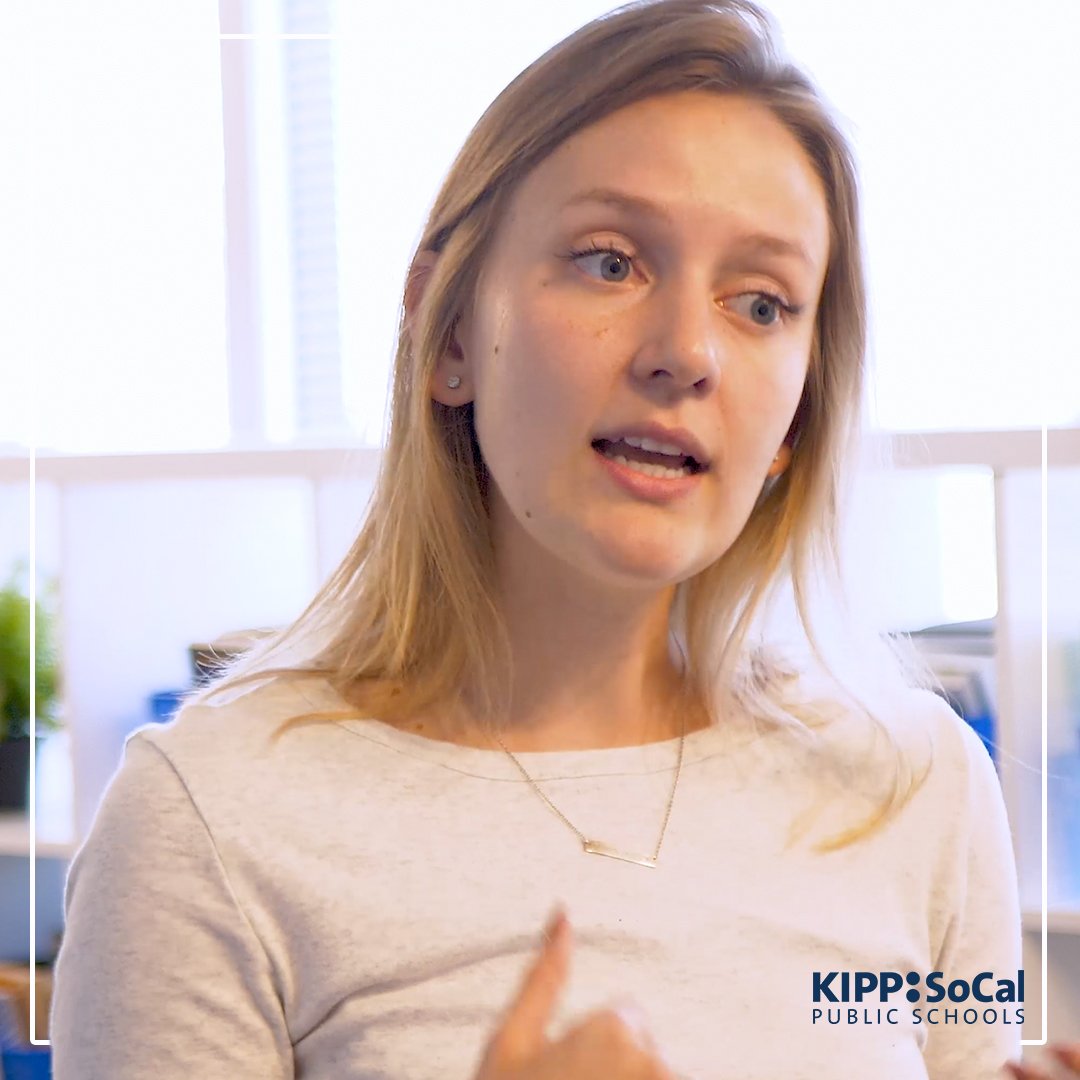 Shelby Junewicz, KIPP Adelante Special Education Manager, and empath extraordinaire, on how we see, develop and inspire the greatest potential in each KIPPster through our Special Education focus at KIPP SoCal.
What is unique about Special Education at KIPP SoCal?- Special education at KIPP SoCal feels like a family. I get the opportunity to work with many stakeholders daily: special education teachers, general education teachers, leadership team members, families, students, community members, related service providers...the list goes on and on. In my experience, the magic that allows us to fulfill the promise of special education happens when all members of a child's community work in collaboration. The shared ownership for our students with special needs is what defines the experience here at KIPPSoCal.
Why did you choose to pursue special needs education?- In college, I had the opportunity to babysit for a child with special needs. She truly changed my life. She taught me that there is joy in even the smallest of moments. She taught me that laughter is contagious. My experience working with her taught me that with the right support and the right village, all people can grow and thrive and succeed. She is my why. I have met many children in my 7 years teaching and leading special education who have continued to strengthen my belief in the ability of all children to thrive.
What is your philosophy as it relates to inclusion and integration? Our Special Education vision is what drives our planning, decisions, and actions. "All advocates will lead choice filled lives." Every word in that vision was selected for a specific reason. Together, these words mean that we believe that every single one of our students will be the ultimate decision makers when it comes to their futures and they will be prepared to do that because they have the necessary skills and mindsets to pursue their passions successfully and independently.
What is the most rewarding aspect of your role? I was recently able to facilitate an IEP meeting where the family looked at every IEP team member at the table, and thanked them individually for the progress that their child had made. In that moment, the IEP team members thanked the family and said, "Your student has worked hard and pushed herself to achieve these goals." What an amazing moment to witness, a family feeling supported and team members identifying that the progress seen was because of the student's hard work. Moments like these are the most rewarding.
What is the most challenging aspect of your role? The most challenging aspect of my role is the balance of responsibilities. When a family member or friend asks, "What do you do all day?" I have a hard time answering. Being a Special Education Manager means doing many things and balancing them all takes time and practice. Recently, I was introduced to the phrase "harmony". For too long we've all be striving for the elusive "work-life balance", but I now seek 'harmony'. That means that some days the balance may tip more toward in-class support and others toward compliance/IEP writing or family meetings, PD, etc. At the end of the day, even when I am challenged to meet all the needs, I believe I am achieving harmony.
How do you feel about the misconception that charter schools don't serve students with special needs? After working in charter schools for 7 years, the most frequent misconception I hear is that charter schools do not serve students with special needs. I often hear that charters will "skim off the top," or "push students with special needs out." While I can't speak for every charter organization, at KIPP, the opposite is true. We are completely open in our enrollment. That means that we have no idea what needs or abilities our children have until they are enrolled. Once enrolled, we receive records and revise our programming to meet the needs of our students.