In KIPP's national 2016 alumni survey, KIPP alumni reported limited access to career-relevant internships. Students who cannot afford to accept an unpaid summer internship miss out on opportunities to grow their network and gain professional development. So this summer, KIPP LA's KIPP Through College (KTC) team found an innovative way to address this issue through the KIPP LA Internship Program.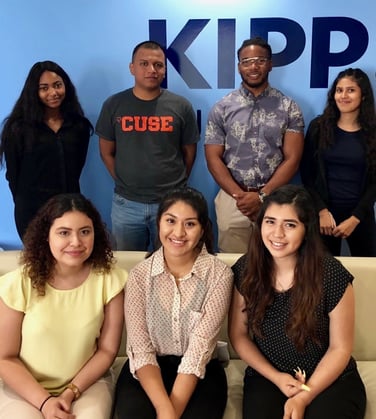 KTC College Success and Career Counselor, Ricky Randle, further explains the motivation behind the program stating that "KIPP LA understands the value of career development and exploration. We knew that with the building of this program, our alumni would gain professional experience and valuable skills which would enhance their academic and career goals. Our mission is to not only see our KIPPsters go to and through college, but to also be successful in life."
All KIPP LA alumni were invited to apply for six to eight-week paid internships at the KIPP LA School Success Team in East Los Angeles for departments such as Development, Talent Acquisition, and Innovation & Technology. In this inaugural year, ten alumni participated in the program including KIPP LA Prep alumna, Melissa Reyes. Melissa interned with the KTC team and noted that she chose this internship program because she "saw it as an opportunity to not only receive hands-on experience with academic counseling, but also to give back to an organization that has provided me and my community with so much throughout the past years." She is currently studying psychology at UC Merced and hopes to have a career in counseling at an educational nonprofit.
KIPP Academy of Opportunity alumnus, Roderick Hughes, found that interning on the Innovation & Technology team aligned well with his computer science major at American University, as he was able to develop greater mastery of coding and virtual reality. Upon graduating, he plans to "develop something that's not only appreciated by the public, but something that will also benefit the public."
For more information on KIPP Through College, please click
here
.