KIPP LA's KIPP Through College program hosts events throughout the year for KIPP LA students and alumni preparing for high school, college, and life.
Summer is the best time for students and families to start researching specific schools and creating high school wish lists for the future. Check out the resources below to get started!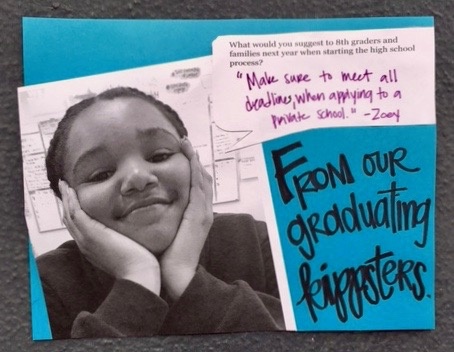 Graduating KIPPsters shared advice for incoming eighth-grade students, which lined the walls of the event.
Over the past few months, the KIPP Through College (KTC) team has hosted high school kick-off events at several KIPP LA schools in South and East Los Angeles for seventh-grade students and their families. These events are opportunities for participants to learn more about KIPP LA's KTC and High School Placement (HSP) programs, their high school options, and the high school application process.
KIPP LA's HSP Counselors were available at each event to provide support and answer questions. Their goal is to ensure that all KIPPsters enroll at a high school that will prepare them for college success.
Below, please find a few high school resources for families climbing the next step to college:
High School Placement Resources
Currently, 95 percent of KIPP LA alumni have graduated from high school and 73 percent are persisting in or have graduated from college. KIPP LA students and families have access to personalized support all along their path to high school. High school placement assistance includes:
HSP Assistance
Counselors at each KIPP LA middle school with a seventh-grade level

Hands-on high school & financial aid application support

High school exploration opportunities such as the annual High School Fair, high school visits, and high school information sessions

High school readiness classes
And remember, KIPP LA support doesn't end with high school acceptance. Counselors are available throughout KIPPSters' high school careers preparing them for college and beyond with college visits, scholarship and financial planning support, pre-college summer programs, career exploration, and job shadowing/internship opportunities.
The KTC team will be hosting the annual High School Fair in the fall of 2017. Visit the KIPP Through College homepage for more information.
Keep climbing!