Today, KIPP and the Sheryl Sandberg and Dave Goldberg Family Foundation (SGFF) announced that four Los Angeles high school seniors – Alejandra Ruelas, Anaid Garcia, Gerardo Alvarez, and Metztli Garcia – have been selected as recipients of the 2018 Goldberg Scholarship. They are among 30 students who were selected from nearly 350 applicants nationwide to be part of this inaugural cohort of Goldberg Scholars. Read on for more details.
The Goldberg Scholarship Program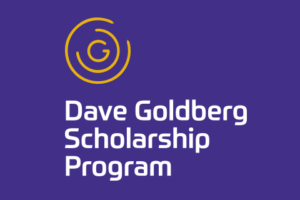 The Goldberg Scholarship Program was established by the SGFF in October 2017 to support KIPP graduating high school seniors across the country who have demonstrated remarkable leadership and achievement. Any student who attended a KIPP school for either middle or high school and had above a 3.0 GPA was eligible to apply for the Goldberg Scholarship. The scholarship honors the legacy of Sheryl Sandberg's late husband, Dave Goldberg, and strives to support a new generation of leaders who embody Dave's qualities of leadership, resilience, achievement, generosity, kindness, independent thinking and entrepreneurial spirit.
As Goldberg Scholars, Alejandra, Anaid, Gerardo, and Metztil will receive a unique combination of financial support and career development mentoring during their four-year college experience. Highlights include:
Financial support totaling approximately $15,000 a year to cover a range of non-tuition needs not traditionally covered by college-based financial aid

A mentor to provide ongoing support throughout college

Support from Goldberg Connectors to help secure summer internships and job opportunities

Participation in an annual Goldberg Scholars Summer Leadership Day, where scholars will meet leaders in their chosen fields
KIPP LA Scholars
Students were chosen based on their academic records and demonstrations of leadership, including:
Alejandra Ruelas: Alejandra attended KIPP Academy of Opportunity and currently attends USC Hybrid High School. She participated in an intensive pre-college summer program at Johns Hopkins University where she took Biology and Medicine courses and developed a passion for both. As a first-generation college student, Alejandra plans to attend UC Berkeley and hopes to use her college education to make positive, multigenerational change in her community of South Los Angeles.
Anaid Garcia: Anaid, an alum of KIPP LA Prep, currently attends The Waverly School, a competitive, independent high school in Pasadena, CA. Anaid's interest in computer science has led her to start La Niña, a non-profit organization whose mission is to empower young Latinas, contest the patriarchy of male-dominated careers, and expose girls to careers that they potentially have never been exposed to before. Anaid plans to study computer science at Mount Holyoke.
Gerardo Alvarez: Gerardo, a senior at Alliance Marc and Eva Stern Math and Science School, is an alum of KIPP LA Prep. He is a trusted advocate and leader in his community, translating legal documents for his family and helping his neighbors understand their rights. At ten years old, he helped his parents buy their first home, which included setting up an appointment, negotiating on price, and translating contracts from English to Spanish. He will be attending Stanford University this fall.
Metztli Garcia: Metztli attended KIPP LA Prep and is now a senior at Mendez High School. As a former foster youth, she knows the challenges so many children and young adults face in the foster care system, and is dedicated to being an advocate for those who may not have a voice. Metztli is captain of the varsity cross country team, Founder and Chair of the YMCA Youth Board and Founder of Women's Empowerment Club. She will be going to UCLA.
"We are incredibly proud of Alejandra, Anaid, Gerardo, and Metztli for becoming part of this first group of Goldberg Scholars," said KIPP LA Executive Director Marcia Aaron. "This is an enormous honor, and a chance for them to get game-changing support in their journey to college, careers, and beyond."
SGFF & KIPP
SGFF selected the national KIPP (Knowledge Is Power Program) network of public charter schools as its partner for the Dave Goldberg Scholarship program because of KIPP's proven track record of helping students from educationally-underserved communities develop the knowledge, skills, and character strengths necessary to succeed in college and life. KIPP LA currently operates fifteen public charter schools throughout the greater Los Angeles area. Overall, KIPP students graduate from four-year colleges at a rate that is above the national average for all students, and four times the average for students from similar economic backgrounds nationwide.
"We are thrilled that Alejandra, Anaid, Gerardo, Metztli, and all of this year's Goldberg Scholars, will have the incredible support offered by this scholarship as they look to the future and begin reaching for their dreams," said Richard Barth, CEO of the KIPP Foundation.