Families at KIPP Promesa Prep in Boyle Heights fundraised to expand their KIPPsters' classroom libraries. To celebrate influential women who have contributed to the Women's Rights Movement of their time, each KPP classroom was able to purchase racially-inclusive books about Selena, Sonia Sotomayor, Michelle Obama, Malala Yousafzai, Ruth Bader Ginsburg, Sojourner Truth, Venus & Serena Williams, or Celia Cruz.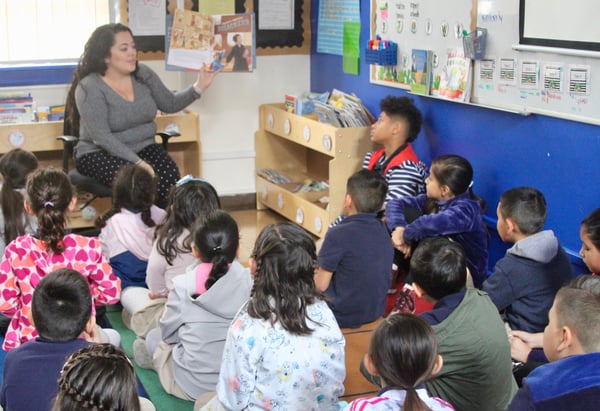 Mrs. Frausto, who organized the book purchases for KIPP Promesa, read her newly purchased book, I Dissent: Ruth Bader Ginsburg Makes Her Mark, aloud to her second-grade students. Prior to the read-aloud, students discussed who Ruth Bader Ginsburg, or RBG, might be based on context clues that she was a colleague of Sonia Sotomayor - another heroine studied during the month. The second graders guessed that she might "sing," or "stand up for equal rights," or "help women in the nineties," or "fight with her voice like Martin Luther King, Jr."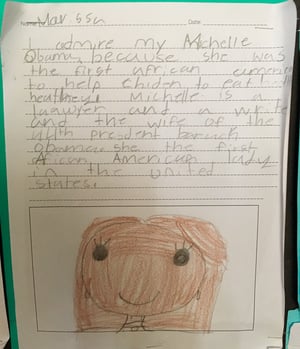 Mrs. Frausto decided to celebrate Women's History Month in her classroom through "building a space that's culturally relevant through race, class, and gender." Students have also been researching historically-significant females, which has been incorporated into her ELA, social studies, and writing curricula. Students wrote about the women in their lives who they most admire including their moms, Rosa Parks, Michelle Obama, Mrs. Frausto, Ruby Bridges, and even Lady Gaga!
"These women are a true testament of breaking barriers and preconceived notions, while being true to themselves - one of our school values! I want my students - especially the girls - to realize that they can achieve anything through hard work, and that staying true to themselves is incredibly important," shared Mrs. Frausto.