KIPP LA recently hosted the fourth annual Innovation Day, which gives educators an opportunity to create meaningful connections & gain practical approaches and tools to use in their classrooms. KIPP LA will post a series of blogs with important resources shared during Innovation Day that will pave the way to equity for students. Read on for innovative approaches to engage English Language Learners.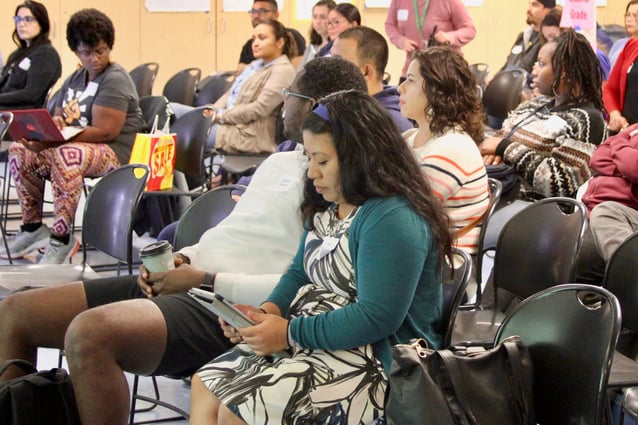 This year's Innovation Day focused on the theme of "Paving the Way to Equity." Over thirty education professionals from schools across Southern California attended the free event, which included sessions led by KIPP LA teachers about utilizing Google Classroom to differentiate instruction, KIPP LA's Innovation Team on designing equitable classrooms, and Dr. Cheung from Apple's education team to discuss the benefits of iPads in teaching English Language Learners.
According to Dr. Cheung, interactive and engaging apps like Clips can support English Language Learners by facilitating the important language acquisition skills of reading, writing, speaking, and listening.
Nancy Lopez, a fifth-grade ELA teacher at KIPP Scholar Academy is excited to start incorporating iPads into her lessons after learning more from Dr. Cheung. "The iPads are a great way to connect students' digital worlds to their classroom worlds," said Nancy.
Borly Green, a sixth-grade special education assistant at KIPP Philosophers Academy, added that the Apple Classroom functionality of the iPad will help her individualize lessons and meet the needs of her students.
Below are a few app resources for English Language Learners recommended by Apple:
Check back in the coming weeks for parts two and three of the Innovation Day blog series with more great tips for educators paving the way to equity!