Since 2002, the Institute for Educational Advancement has provided highly gifted students with the prestigious Caroline D. Bradley scholarship -- a merit-based high school scholarship awarded to up to 30 students across the nation each year. Applicants of this competitive scholarship are required to complete a rigorous application process including essays, transcripts, two recommendations, a work sample, standardized test scores, and an interview.
This year, two KIPP LA eighth-grade students have been selected as scholars. Desirey Mañon, a KIPP LA Prep student, and Abraham Rochez, a KIPP Scholar Academy student, will be provided with an individualized education plan and a four-year high school scholarship to a distinguished high school that will meet their intellectual and personal needs.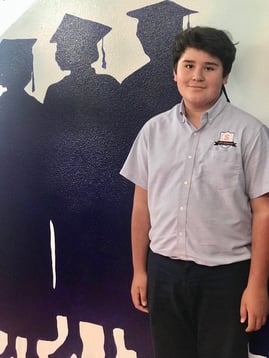 Abraham, who first heard of the scholarship from his KIPP Through College counselor, believes that this scholarship will help him achieve his dream of becoming an engineer. "Not all families, including my own, are able to afford tuition and programs to put their child on their desired career path - they may just fall short and give up on themselves because they can't afford it. With this scholarship, even though my family does struggle financially, I will be able to pursue the dreams I had as a child."
Though he's not yet sure which high school he'd like to attend next year, he is looking forward to "discovering new passions, having more opportunities, and meeting new people and progressing with them for four years." His KIPP Through College counselor and Caroline D. Bradley advisors will assist him throughout the high school selection process.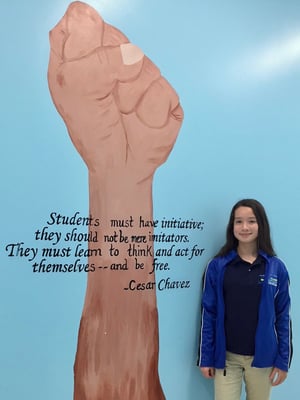 Having never applied to a scholarship program before, Desirey relied on her KIPP Through College counselor to guide her and her family through the process. She is grateful that this scholarship will expand her high school options. Desirey, who attended KIPP Raíces Academy elementary school, is interested in going to an esteemed high school like Harvard-Westlake or Cate School, a distinguished boarding school in Carpinteria.
Upon graduating, Desirey hopes to study law and become either a criminal or immigration attorney so that she can "help people who want to come to America and have a better life."
Last year, KIPP Academy of Innovation alumna, Alondra Cardenas, received the scholarship. She is currently a freshman at the prestigious Windward School in Los Angeles.
For more information on KIPP LA's KIPP Through College program, please click
here
.