KIPP Comienza Community Prep in Huntington Park has been named a 2017 recipient of the prestigious National Blue Ribbon School Award by the US Department of Education. Read on for more details.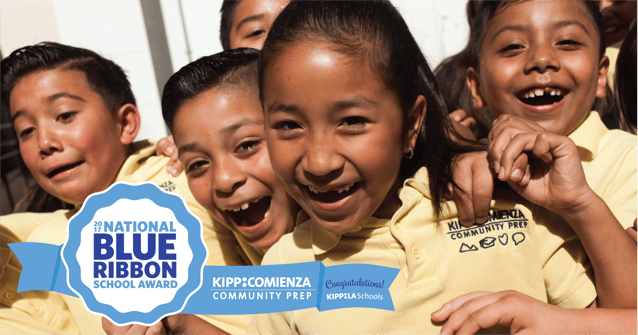 Every year, the National Blue Ribbon Schools Program selects public and private elementary, middle, and high schools based on their overall academic excellence or their progress in closing the achievement gap. KIPP Comienza achieves academic excellence through their mission to teach the academic skills, cultivate the character traits, provide the learning experiences, and forge the community relationships needed for their students to thrive in high school, college, and life.
"Since 2010, we have promised our families that their children would receive an excellent education. I am proud our school is delivering on that promise. We are honored to be receiving this award and could not have done it without the hard work and love that students, families, and staff have poured into our school over the last seven years to make this a reality," said KIPP Comienza Community Prep Co-School Leader, Hadley Huberman.
The recognition of KIPP Comienza Community Prep marks the third consecutive year that a KIPP LA school has received the prestigious National Blue Ribbon Award. KIPP Raíces Academy and KIPP LA Prep were recognized in 2015 and 2016, respectively.
"The National Blue Ribbon Award reflects the hard work and dedication that the KIPP Comienza Team and Family demonstrate on a daily basis. To honor the school with this award is to honor the families and community, as well. We are very excited to have KIPP Comienza recognized," commented Angella Martinez, KIPP LA Chief Academic Officer.
KIPP Comienza Community Prep was one of four schools in the Los Angeles Unified School District (LAUSD) and one of only 25 schools in California to receive the highly-selective National Blue Ribbon School Award.
"Having the opportunity to provide our students an excellent education from the moment they begin their journey into school as kindergartners to the moment they leave us to attend high school affords us the opportunity to actualize on our collective vision of providing a clear pathway to and through college. Receiving this award affirms to our team, our students and our families that with high expectations, combined with an unwavering commitment to our mission and vision, we can prove what is possible here in our community of Huntington Park," added D'anza Smith-Rodriguez, KIPP Comienza Community Prep Co-School Leader.
Congratulations on continuously proving the possible, KIPP Comienza!