KIPP LA Prep alumna, Natalie Osuna, shares her personal experience with a choice-filled life after being accepted to thirteen colleges. Read on to discover which path she chose to pursue.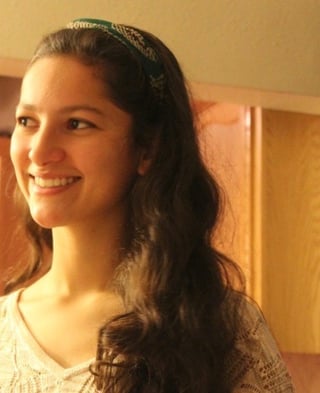 Natalie Osuna, KIPP Los Angeles College Preparatory School (KIPP LA Prep) alumna, had a tough decision to make this Spring. Out of 13 college applications, Natalie was accepted to ten schools including Harvard University and Massachusetts Institute of Technology (MIT). She is the first KIPP LA alumna to be accepted to these prestigious schools.
Natalie first narrowed down her choices by considering her desired career path of architecture. "I absolutely love art and I love mathematics and I love interdisciplinary things so it felt like architecture was the right thing for me," said Natalie.
The seeds were planted early in school for Natalie's architectural focus. While attending KIPP LA Prep, Natalie's favorite subject was math and her favorite teacher was art teacher Mr. Hahn, a KIPP LA Teacher of the Year award winner. During her middle school years, Natalie participated in the KIPP LA signature event, MOKA (Museum of KIPP Art), which is an annual fundraiser featuring amazing artwork and performances by KIPPsters. "The art program at KIPP LA was really awesome. I think MOKA definitely prepared me for speaking with adults, and the art program in general gave me a really good artistic foundation that I probably wouldn't have had in a traditional public high school."
Her path to college started at KIPP LA Prep middle school where the academic rigor and supportive teachers laid the foundation for Natalie to succeed in high school. "KIPP was definitely the next step I needed. I feel like by preparing me for high school it prepared me for college and beyond. KIPP was the best middle school for me at the time, and I think it was just really awesome that I was able to go there and receive an excellent education"
Natalie's multiple college acceptances come as no surprise. KIPP LA teachers realized her potential early on in her academic career. She remembers being called into the principal's office with her Mom. "In my head, I was running through all the things I could have done wrong. I didn't remember doing anything bad, and then I learned they were considering skipping me a grade ahead," she recounted with a smile.
Natalie credits her KIPP Through College (KTC) counselors with helping her find a college-preparatory high school after they provided information on the A Better Chance scholars program. This program assisted Natalie in her application and acceptance to the prestigious Ojai boarding school, The Thacher School. "If it weren't for KIPP, I definitely wouldn't have had the life experiences I've had. I wouldn't be at this amazing high school because I wouldn't even have been exposed to the option of a boarding school. KIPP is so awesome because exposure is extremely important in breaking the cycle of low-income communities having fewer options."
Natalie is a first-generation college student, following in the footsteps of her older brother and sister. "I'm definitely proud to be able to do something my Mom was never able to do. School doesn't feel like a chore to me. If anything, I'm happy to be a first-generation student because I feel like that definitely gives me a different perspective from other students," she shared.
Although Cornell's five-year, pre-professional architecture program was her first choice initially, Natalie's preferences shifted as decision letters rolled in. "Getting into Harvard and MIT kind of changed the game," admitted Natalie. She made the ultimate decision to attend MIT this Fall. Her KTC counselor also shared several college scholarship opportunities with Natalie, many of which she is eagerly waiting to hear from. Currently, she has received scholarships from MIT.
Next year, Natalie is most looking forward to joining the MIT community. "I felt like from all of my college visits it was the one that was the most fun and I connected with people the most there. That's ultimately what made me decide to go there because it just felt right in my heart. It's the right place for me because it's super nerdy and I loved it," revealed Natalie. She also wanted an academic environment that would challenge her. "I don't want to go to a college that is extremely easy. I want to feel like I'm accomplishing something," she said.
As she prepares for her next step in her higher learning, Natalie hopes that others will be able to have the same opportunities and experiences because of the importance of education, adding "I honestly think education is the most crucial element to bettering our world. It's so important that we have better education for everyone. Unfortunately, the way it works in the United States is that public schools often times don't get enough funding. And so with charter schools, especially KIPP LA, supporters have a chance to provide that better education for kids, which is really invaluable because every next generation of kids is going to lead the world."
The KIPP LA Team and Family wish Natalie the best of luck next year as she continues to climb the mountain to and through college at MIT!