On June 26th, 26 KIPP LA alumni departed Los Angeles for the UC Irvine campus to participate in the fifth annual Students Who Achieve and Graduate (SWAG) retreat hosted by the KIPP Through College (KTC) program. The two-day retreat prepared students for their first year of college and beyond through workshops on social, emotional, and financial college resources, alumni leader panels, team bonding exercises, and an identity conversation. Read on for additional details and highlights of the event.
SWAG Workshops
Students participated in multiple counselor-led workshops that included role-playing activities, open discussions, and an overview of resources.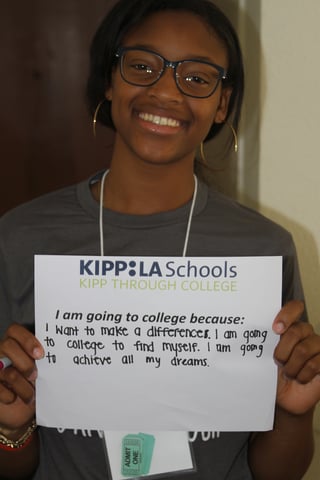 Scenarios like talking to one's family about college as a first-generation student, dealing with homesickness or a financial aid fiasco, and navigating a diverse or predominantly-White institution were played out in the "Preparing for Your Institution" workshop.
"These are things our students might actually encounter, so it's important to prepare them to be ready to have those conversations," shared Belen Sanchez, Director of KTC. For Ms. Sanchez, the role- playing scenarios were a highlight of the event because the students were highly engaged, having fun, "and the level of conversation generated and maturity levels displayed were very impressive." Sandy Ahumada, a KIPP LA Prep alumna and SWAG attendee felt "very nervous about entering college because as a first-generation college student there are so many questions that are left answered. Thanks to KTC and the SWAG retreat many of theses questions were answered, which makes the process of going to college a lot smoother and less stressful."
KIPP LA alumna Asia Oliver participated in the SWAG retreat.
Alumni Leader Panel
Four KIPP LA alumni leaders who are currently in college, including Sommar Washington, joined the group to serve in a leadership role by facilitating small-group sessions and sharing their college experiences during a group panel.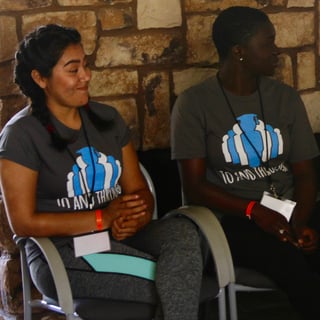 Ms. Washington attended KIPP Academy of Opportunity and recently graduated from El Camino College with a degree in Humanities. She jumped at the opportunity to join the alumni leader panel because she knows firsthand how valuable the experience can be, as she attended the SWAG retreat herself in 2014. "If it wasn't for the SWAG retreat, I wouldn't have had a lot of information I did regarding the transition to college. Because it was so helpful to me, I felt inspired to help other students by sharing my experience openly."





Team Bonding Exercises
The attendees participated in a number of outdoor team-building activities, which "provided a moment for everyone to come together and problem solve," explained Lupe Cruz, KTC College Success Manager and co-host of the retreat.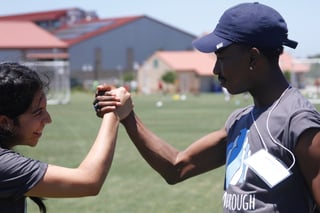 One of the goals of the retreat is to create a strong sense of community, so by having alumni from KIPP LA Prep and KIPP Academy of Opportunity work together before heading off to college can really solidify the network and build "camaraderie and respect amongst each other," added Ms. Cruz.
Identity Conversation Workshop
This year, the KTC program invited Nadeeka Karunaratne, Student Development Coordinator of the Cross-Cultural Center at UC Irvine, to facilitate an "identity corners" workshop for the attendees.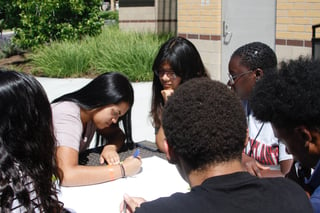 The workshop aimed to help participants understand the multiple layers of identity within themselves and society, and learn how to best respond to diversity with empathy, respect, understanding, and connection.
This session sparked important conversations that, for many students, was their first foray into the topics and terminology discussed, according to Ms. Cruz. Sandy Ahumada found this workshop to be one of the biggest highlights, noting that, "it is very hard to be proud of who we are when our identities can be perceived as a setback. However, thanks to the SWAG retreat, I was able to find out who I truly am and be proud of that."
Looking Ahead
Ms. Ahumada will be attending Claremont McKenna College this fall and hopes to return to the SWAG retreat in the future as an alumni leader. "A big part of why I want to go to college is to be an example to my fellow community and to show them that they too can achieve great things. What better way to help people go to and through college than by being an alumni leader," she noted.
Alumni leader Sommar Washington enjoyed bonding with the students and watching them demonstrate the seven KIPP character traits throughout the retreat. She looks forward to keeping in contact with them in the future and following their respective journeys.
Ms. Sanchez finds that the retreat is "a good reminder about the pressures our students have, especially students of color, on a campus." She and her team will use this year's experiences to inform updates to the program next year, as they continuously improve upon preparing students to navigate a new landscape.
For KTC counselor Lupe Cruz, the SWAG retreat is a special time of year because she is able to get to know her incoming cohort of students on a deeper level, and they are able to learn more about their counselors in a very intimate and personal setting. "It's a signature event for a reason. Students have a great time while gaining lots of skills, knowledge, and resources, so I think it will be a signature event for years to come."
Upcoming KTC Events
The next KTC event, The Road to College, will be held August 9-10 at the UCLA campus for incoming high school seniors. This free event is open to all KIPP LA alumni applying to college this fall and will focus on the college application process. Transportation, food, lodging, and programming is covered by the KTC program. To sign up, visit go.kippla.org/2018CAP
If you would like more information on upcoming KTC events, please visit the KTC contact page.