As another school year comes to a close, we are pleased to share an exciting update about our KIPP LA community. KIPP LA Public Schools will become KIPP SoCal Public Schools, expanding our footprint to include San Diego in addition to the greater Los Angeles area!
We will do this by merging with KIPP San Diego and will fully transition to KIPP SoCal Public Schools by July 1, 2019. Our new website and social media will launch in time for the new school year.
Read on for a statement from KIPP SoCal Public Schools CEO Marcia Aaron.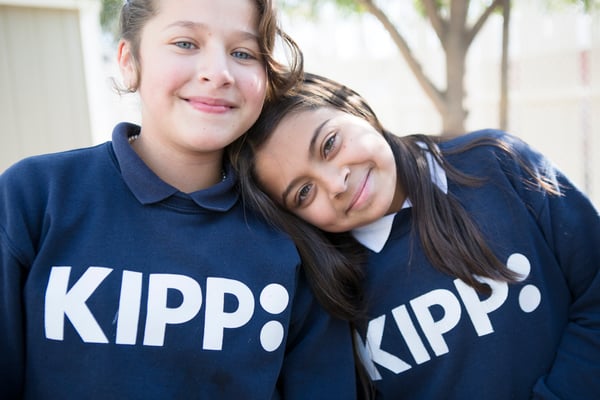 For the past several years I have worked closely with Allison Ohle, Executive Director of KIPP San Diego, in an effort to help KIPP get both better and bigger in San Diego. This past year, we formalized our partnership with KIPP San Diego. During this time, both the KIPP LA Board and the KIPP San Diego Board discussed the benefits of a merger and ultimately voted to approve. Additionally, the San Diego Unified School District Board also voted in favor of our merger.
We have successfully operated as KIPP in Los Angeles for the past 15 years and have grown from two schools in 2003 to seventeen schools today. Next school year, KIPP SoCal will operate 19 schools, educate approximately 8,200 students, and support 4,300 alumni. We will leverage our combined resources to provide stronger instruction for our KIPPsters, more training for our teachers, greater operational support, fundraising assistance, expanded KIPP Through College programming for our alumni, and much more.
KIPP SoCal will be an even better version of KIPP LA and KIPP San Diego because we will learn from each other as we see, develop, and inspire the greatest potential in all KIPPsters.
I am excited about our future impact in both greater Los Angeles and San Diego. I look forward to leading our newly combined team in serving as a model of excellence and collaborating with others to raise the quality of education for the nearly 950,000 students attending low-performing schools across Southern California.
I am deeply grateful for the support that our community has provided and I look forward to their continued support as we embark on this new journey!