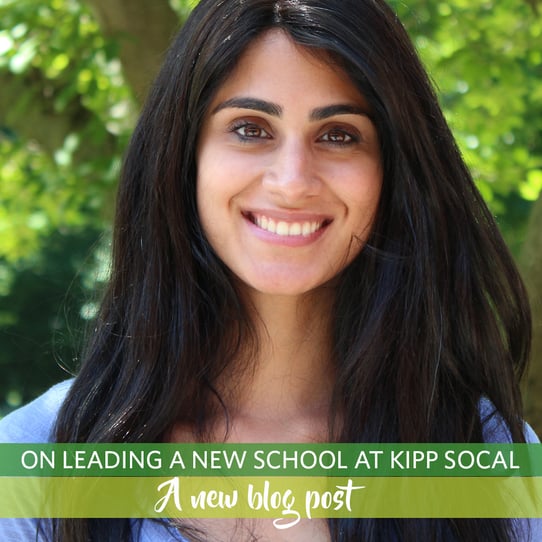 This month, we sat down with Nisha Vasavada, founder and new co-School Leader for KIPP Pueblo Unido, to share her passion and vision for this new adventure for both her and our KIPPsters! Nisha will be leading KIPP Pueblo Unido's upper school, with 6th grade set to begin in August 2020. Tessa Mizokami, will continue to shine as co-School Leader for KIPP Pueblo Unido's lower school.
A word about our new school leader:
KIPP Pueblo Unido is founded and co-led by Nisha Vasavada. Nisha is a daughter of Indian immigrants who deeply valued education and worked hard to ensure she had access to excellent educational opportunities growing up. She graduated from Stanford University double majoring in Economics and Political Science. Upon graduating from Stanford she went into financial consulting, which made her realize her desire to do work that had a more positive impact on others. She was drawn to education because her grandfather started a network of schools serving villages across India, and she was inspired by his career and impact. She felt it was unjust that so many students did not have access to the same educational opportunities she did just because of their zip code. These experiences, paired with her desire to make social change, led her to education. She was a teacher and leader in New York for 7 years, and then joined KIPP SoCal because of the balance of high expectations, character education, and sense of community.
What does it mean for you to lead a new KIPP SoCal school?
I am on this journey to found and lead KIPP Pueblo Unido because I believe that

ALL students deserve access to an excellent education--and that means access to both an excellent academic education AND an education that focuses on the whole child and their identity development."

All too often in our country, I have seen firsthand that outcomes for our kids are left to chance. The course of their lives is determined based on their zip code, or whether they had one great teacher, or how hard their parents fought to navigate a system that was stacked against them.
All children deserve to go to a school everyday where they can expect to learn and grow, take joy in being challenged, be supported by their teachers, be treated with love and kindness, and be in a safe environment that allows them to figure out who they are in this world, and that they are worthy of their dreams.
That is why I am founding Pueblo Unido Upper school--it is the idea that it takes a village to achieve our dreams--our families, our teachers, our peers working together--and that with this united community our students will be unstoppable. I believe that all my experiences over the past 10 years as a business consultant, teacher, and school leader, have led me to this point where I am ready and determined to bring this vision to life. I have spent significant time as a teacher and leader in 2 blue ribbon schools, one in New York and one in LA, and those experiences have taught me what it takes to create an excellent and equitable school for children. I've also seen firsthand how that type of education can transform the lives of students and families. My former middle school students who are now seniors in high school are seeing their hard work and the work of their pueblo pay off--they are applying to and getting into some of the top universities in the country right now. Middle school is a transformative age for our students and it can often make or break their sense of confidence in themselves as a student and as a person. I want every student in our school to feel confident in their skin and to believe in and reach their full potential.
What is it about the foundations of KIPP Pueblo Unido that aligns with your vision for the upper school?
The vision for our lower school and upper school is exactly the same. We are focused on ensuring that ALL students achieve, and we know that can only happen by building a community where everyone wants to be at school, feels welcome at our school, and feels that they are owners over the school. When I say everyone, I mean our students, staff, and families.
We also share the same core values as our lower school--optimism, curiosity, love, and ganas. These values form the foundation of our school and we reinforce our values everyday by first and foremost modeling these values for our students, and constantly celebrating our students when they are showing these values in action. These are not values that we as adults have fully mastered; these are values that we are all growing and working on together. However, we believe when we exhibit these values, we are all able to become the best version of ourselves. When we treat each other with love we build trust in our community. When we exhibit optimism and ganas, we are able to overcome any challenge that comes our way because we are solutions-oriented, positive, and hard working. When we approach one another with curiosity we are able to learn and grow from every moment and each interaction.
"I want our students to be the next leaders and change agents in this world, to have access to the opportunities that I was afforded. I want them to be in a school where they can fully be themselves, and to know that what makes them unique is what will give them power."
How will you help your students 'fully be themselves' and know that 'what makes them unique is what will give them power?'
In addition to excellent teaching and learning, our school is equally focused on supporting our students in developing their identities. Middle school is especially a very vulnerable time for children, as they are figuring out who they are and experiencing many challenges and changes for the first time, physically, emotionally, and socially. That is why we explicitly build in time into our school day to support students in social-emotional learning, community building, and exploring non-academic enrichments. Here are three examples of structures within our school day that support our students' identity development:
Team & Family Time: Our students start almost every morning with 25 minutes in homerooms where they engage in journaling, community teambuilders, and social-emotional learning lessons. We invest in a Social Emotional Learning curriculum because we believe it is equally important to teach these important life skills and habits, as it is academic skills.
Weekly Community Circle: every week our students engage in community circles where they do a meditative exercise, check in on their emotions, and talk about relevant topics that are impacting their lives (like bullying, social media, peer pressure). This helps our students process challenges with one another, and also to build trust, respect and understanding with one another.
Enrichment: In the afternoons our students will be able to partake in different enrichments or clubs based on their interests--such as dance or team sports or coding! Of course, the number of options we offer will increase as our school grows, but when fully grown we hope to create a program where students can explore their interests and find something they love doing.