Advocating for Students with Special Needs
Innovate Public Schools, a California-based nonprofit organization, recently published a report called An Advocate's Guide to Transforming Special Education. The guide highlights research and provides concrete examples, interviews, and school profiles showcasing high-quality special education in practice to assist parents, educators, and caregivers in advocating for students with special needs.
KIPP Raíces Academy, a KIPP LA elementary school in East Los Angeles, is featured in the guide as a model for special education, illustrating how to support students with disabilities to reach their full potential. The guide also includes specific questions advocates should ask of their schools and communities, as well as practices and policies to support in order to help transform the special education system.
"Every child is different and this guide provides a tool to assist families in making a more informed decision based on the needs of their child," said KIPP LA's Managing Director of Student Services, Kim Dammann.
A KIPP LA Parent's Success Story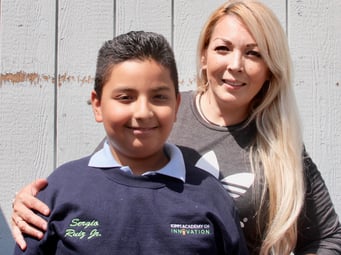 Patricia Palomera's son, Sergio, has been attending KIPP LA since kindergarten at KIPP Raíces Academy. He is currently thriving in the fifth grade at KIPP Academy of Innovation, but this was not always the case.
Early on, both Patricia and Sergio's teachers noticed behavioral issues with Sergio. Patricia explained that it was difficult for Sergio to focus attentively on the teacher and remain still. He wanted to move around. He would sit on the teacher's chair, make excuses to leave the classroom, and started demonstrating a negative attitude.
At first, Patricia thought he was just an active child, and she witnessed other children in her family who had similar behavioral patterns, but in the first grade his tantrums started to worsen, culminating in a massive episode when Sergio de-shelved over 1,000 books in the school's library. "When I arrived at school, he said he was bored and didn't want to be there anymore. The Raíces team moved quickly and with urgency to hold a meeting to evaluate him," shared Patricia.
Counselors at KIPP Raíces provided Patricia with resources, clinics, and psychologists to help Sergio, and the special education team did a pre-evaluation to quicken the referral process. Patricia chose KIPP LA partner, Penny Lane Centers, to evaluate Sergio and they ultimately diagnosed him with ADHD.
Patricia gave Raíces the evaluation and they immediately provided him with an IEP (Individualized Education Program), supports from a resource teacher, and access to the school's on-site counselor. "Whenever he had an episode or tantrum, he would get an hour with his therapists. They helped him with his social-emotional skills and provided him with calming techniques and fidget toys like playdough and rubber bands. If he felt like he couldn't be in class anymore, he could tell his teacher and his aides would continue the class lecture with him in a smaller group setting," said Patricia.
With tears in her eyes, Patricia added that "I have a lot of love for the Raíces team. I cried with them, and they made me feel like I was never alone. I could see the love they had for Sergio, and it was the love I needed to continue to help my son."
According to Patricia, after a combination of medication, therapy, and school support, Sergio is more focused and relaxed both in school and at home. His grades are improving, he uses positive words, and he is very friendly.
Actionable Next Steps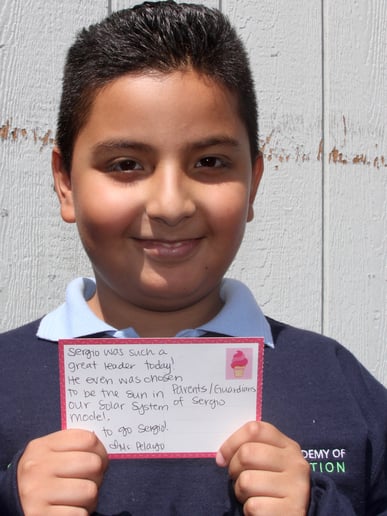 Patricia would like families to know that "if you see a problem with your child, there is always someone who can help you or provide you with additional information. Always know that you are not alone, even though it may feel that way. There were some very difficult years for me, and having a child with special needs does affect the whole family, but taking your child to therapy can help."
And while Patricia understands that families can go through a period of denial, herself included, she believes that "getting help is in the best interest of the child. It starts with acceptance - if parents keep neglecting the issues or dismissing them by saying 'it's just a phase,' this will negatively affect the child."
After seeing the positive changes in Sergio's behavior, Patricia's friends have now started to have their own children evaluated, and the results have been very positive.
"It's our hope that parents will come together to advocate for systemic change. This guide can provide a roadmap for that change," said Innovate's Director of Organizing, Alicia Ross.
Join Innovate for a public webinar on Thursday, September 20th from 12:30 - 1:30 (PST) run by special education experts who will walk through the guide and answer questions to help advocates build toward greater equity and support for students with special needs. To RSVP, email
sjenkins@innovateschools.org
.