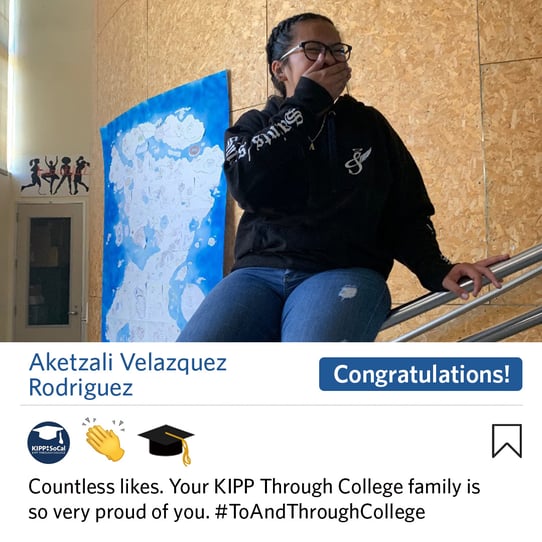 This 'scholar spotlight' series will celebrate our KIPP SoCal alumni on their incredible journey to and through college.
Aketzali Velazquez Rodriguez
Aketzali Velazquez Rodriguez is a KIPP Adelante Alumni and a junior at High Tech High International in San Diego. She would like to major in Criminal Justice and possibly become a detective in the future. She is currently an intern for Pillars of the Community which is a non-profit organization that helps bring awareness to gang enhancements. Gang Enhancements are additional prison sentences that are added to one's original sentence and are disportionately added to the sentences of people of color and those from low-income communities. During her internship she has been able to sit in on a trial and conduct research on different cases happening across San Diego. In addition, she has already begun taking college level courses at Mesa College, including Psychology 101. At High Tech High she is the current MEChA President and apart of the Ambassador program. We are so proud of you for being an advocate for individuals both at your high school and greater community.
You are going to change the world Aketzali, we cannot wait to see it! #toandthrough