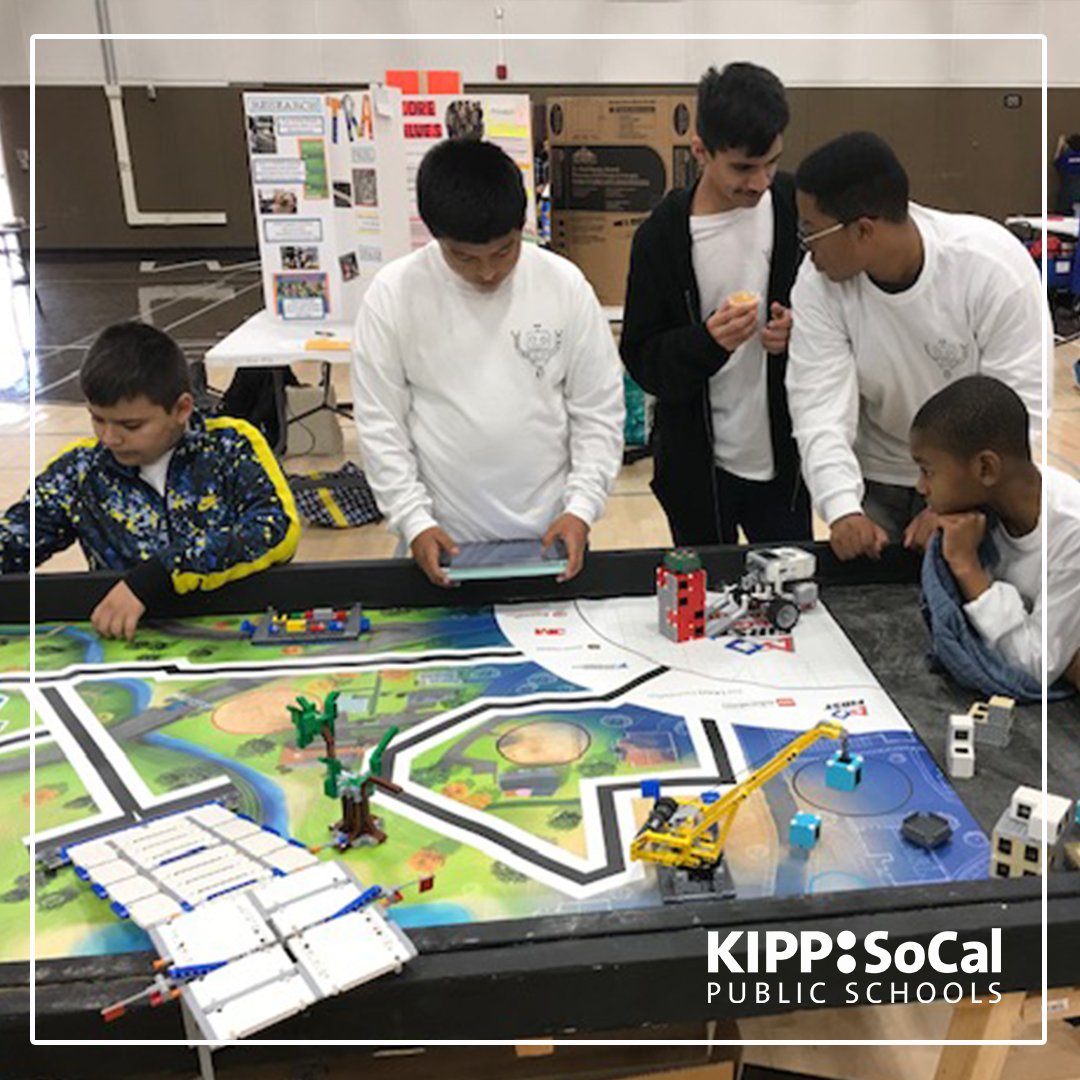 KIPP x Robotics
For those who might not be in the STEM-know, this has been a big year for KIPP SoCal in Robotics, with gratitude and in no small part due to Amazon's Future Engineer Grant and the large expansion of STEM opportunities this grant has made possible in our schools this year.
This year, all 8 of our KIPP SoCal middle schools have established robotics clubs. This series will highlight both the amazing work our students and coaches have done, and the impact this programming has had on our students' educational experience and their future aspirations.
While we hope to shine a light on each of our teams in the coming weeks, we'd be remiss to not first congratulate all of our middle school LEGO League teams who competed in FIRST Lego League Regional Qualifiers in November, and wish all teams the best of luck as they prepare for the KIPP SoCal Championship and those advancing to the FIRST Lego League Championship later this month! We can't wait to see you shine.
At the WISH Charter Competition, Team #45570 (KIPP LA PREP 1) got 1st Place in Core Values. Team #44905 (KIPP Academy of Opportunity) scored 290 in robot performance. Team #46311 (KIPP Scholar Academy) scored 250 in robot performance.
At the Boyle Heights Competition, Team #44983 (KIPP Academy of Innovation) got 1st place in Robot Design.
At the Windward Competition, Team 44906 (KIPP Academy of Opportunity) accomplished a score of 235 for robot performance.
At the Culver City Competition, Team #44904 (KIPP Academy of Opportunity) won 1st place in Robot Performance with a consistent score of 335 points and 2nd place in Core Values. They will be advancing to the LA-FLL Championship Tournament to be held on 12/15 at La Canada HS.
At the Torrance High School Competition, Team 44968 (KIPP Philosophers Academy) accomplished a high round score of 155.
KIPP Philosophers Academy x Robotics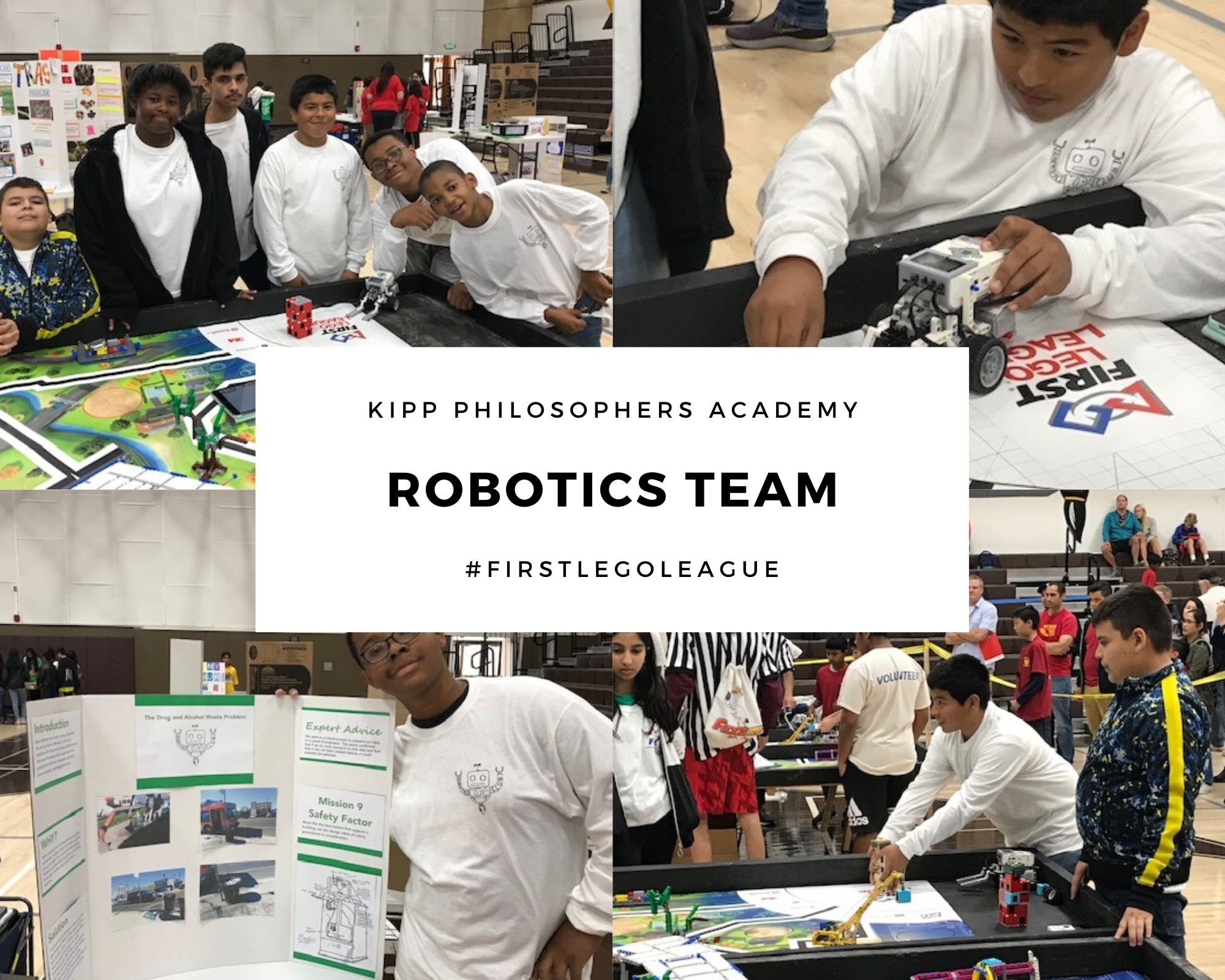 Today's spotlight is focused on KIPP Philosophers Academy robotics club and their incredible journey:
20 KIPPsters joined KIPP Philosophers' robotics team this year, thanks in no small part to the opportunity presented through the Amazon Future Engineer grant, the diligence of KPA's science and math teachers, Scott Peterson and Julieta Zapata, and the amazing dedication of our KIPPsters. 'The students have shown increased ability and patience for problem-solving throughout the robotics season,' notes Mr. Peterson. He's seen students decrease their frustration when the programming or mission completions became more and more difficult to succeed in. 'The FIRST Lego League fosters not only problem solvers and engineers, but also students who are caring, sharing and team players with other Robotics teams at their competitions.'
Mr. Peterson also felt that 'participating in the robotics program has inspired a new insight into additions that can be included in our science and math curriculum. This program instills a love of programming and an increased ability of students to experience the skills they learn in math and science classes.'
KIPP Philosophers Academy hopes to make the robotics club a year-round program. Their vision for the club will strengthen through the continued and growing support from the member's other classmates and their parents as well. The belief is that this club can be an outlet for students who need a hobby, love to problem solve and who wish to develop their own skills and passion for robotics.
The team is currently working hard on multiple new robotic attachments to further their completion of additional missions during their rounds, in preparation for the KIPP SoCal Championship tournament on the Karsh Campus on 12/14.
We wish all KIPPsters good luck on 12/14 and will continue this story as KIPP SoCal robotics takes us on a journey that speaks to the power and impact of these programs and what these opportunities mean to our students, our mentors and our communities.