As KIPP LA middle school students prepare for their transition to high school, several have been selected for prominent, nationally-awarded scholarships with the hands-on support of their KIPP Through College high school placement counselors. Read on for more details.
Caroline D. Bradley Scholarship
Alondra Cardenas, an eighth-grade student at KIPP Academy of Innovation, is one of only twenty-eight gifted students across the country to receive the Caroline D. Bradley Scholarship.
This scholarship provides learners with an individualized education plan and a four-year high school scholarship to a rigorous high school that will meet their intellectual and personal needs. Students are required to complete an extensive application process including essays, transcripts, two recommendations, a work sample, standardized test scores, and an interview.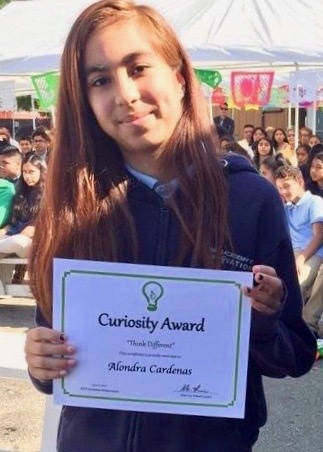 Alondra, who first heard of the scholarship through her KIPP Through College counselor, wants to be an astronaut and believes that "this scholarship will allow me to attend a good high school that will give me opportunities to continue learning about what interests me. This will also allow me to continue my education and get into the university of my choice." She is interested in attending either Wildwood or Oakwood High School and either MIT, Caltech, or Purdue University. Alondra's mother, Mirna Cardenas, added that "as the first future astronaut in our family, Alondra is opening a universe of opportunities as she forges her future and widens the realm of possibility for others in our family."
Mirna is an active member of the KIPP LA community as a leader of the Family Ambassador program. Both she and her husband are first-generation Mexican-American university graduates, and this scholarship means a lot to her family. "We have worked hard to take advantage of the opportunities that education afforded us and provide our children with not only educational opportunities, but also exposure to new experiences and communities. This scholarship not only validates Alondra's hard work and dedication, but that of all those who came before her."
Mirna added that "the entire high school selection process is pretty overwhelming, but KIPP Through College has really helped to ease the stress and keep Alondra and our entire family focused and organized. They have worked with Alondra through each step of the application process and supported our family. We are glad to have an entire team of people encourage, assist, and ensure Alondra's success."
Jack Kent Cooke Young Scholars
Three KIPP LA eighth-grade students have been selected as Jack Kent Cooke Young Scholars including Cionnie Pineda (KIPP Academy of Innovation and KIPP Raíces Academy alumna), Genesis Guzman (KIPP Sol Academy alumna), and Natalie Rangel (KIPP Academy of Opportunity alumna).
Each year, the Jack Kent Cooke Foundation selects approximately 60 high-performing, well-rounded students across the country to receive individualized support from academic counselors, funding for academic and enrichment programs, internship and study abroad opportunities, and education resources such as books and technology.
"An opportunity gap exists for students in our communities, but programs like Young Scholars work to eliminate this gap by ensuring students have access to quality educational and enrichment opportunities regardless of family income. We are so excited to see what our KIPP LA Young Scholars will continue to accomplish along their journey to and through college," said Nicole Gutierrez, senior high school placement counselor on the KIPP Through College team.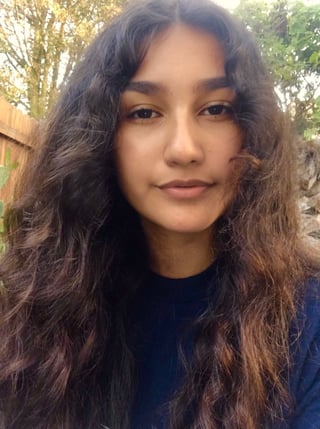 Natalie Rangel noted that while she isn't yet sure which college or career path she would like to pursue, "the Young Scholars program will help me achieve whatever path I choose by giving me not only financial support, but also allowing me to take advantage of extra opportunities that will help me grow both academically and as a person."
Natalie credits her KIPP Through College counselor with bringing the Young Scholar's program to her attention and supporting her through the new process of applying for a scholarship. She looks forward to joining a community of scholars and traveling abroad. "I am so grateful to everyone who has helped me reach this point and will continue to help me in my path through life because I wouldn't be the person that I am today without them. I fully intend to continue to be a student both in the classroom and out and to remain motivated to give back to not only my community but also to the world," shared Natalie.
High School Resources
Click here for a list of high school placement and scholarship resources collected by the KIPP Through College team.
Keep Climbing!