On Friday, October 12 more than thirty professionals of industries ranging from the NFL, restaurants, music, and entertainment to nonprofit, architecture, medicine, business, and law joined KIPP Academy of Opportunity (KAO) middle school students in the revamped KIPP LA Guest Teacher Program. Read on for more details.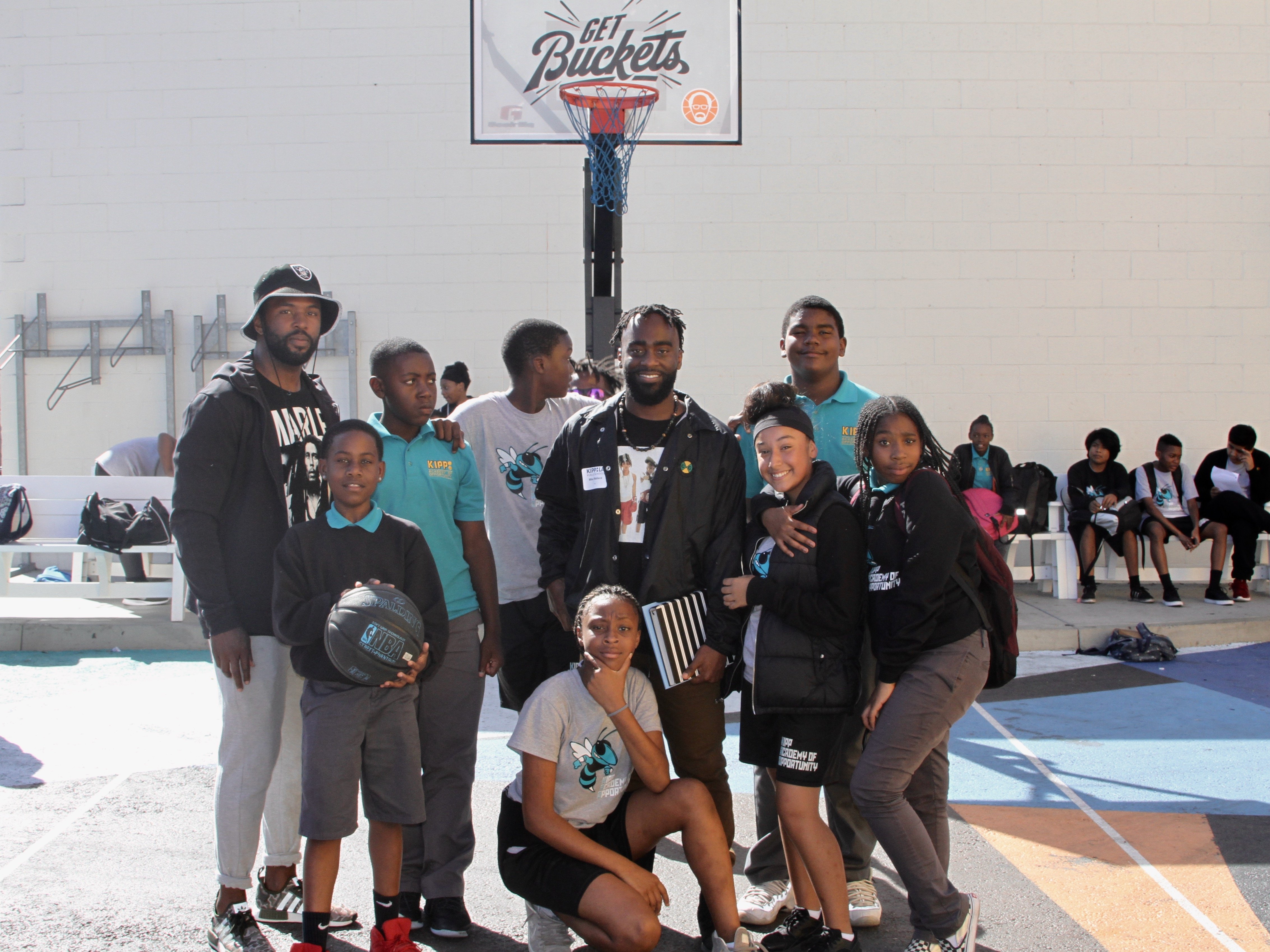 The KIPP LA Guest Teacher Program began in 2004 after KIPP LA Trustee, Don McCammack, partnered with KAO's school leader to create a program that was "more than a career day, but a learning experience for KIPPsters," explained Don to the group of professionals.
He went on to emphasize that "as a guest teacher, you personally personify what KIPPsters are aspiring to be - a college graduate with a successful career. Your presence here and the sharing of your stories is an invaluable lesson validating their hard work to achieve their college goals - and these kids work hard!"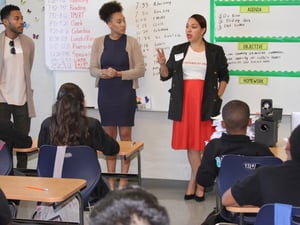 Guest Teacher participants were recruited by KIPP LA's new Latinx and Black Leader Philanthropy Initiative Co-Chairs and each participant had 15 minutes to share their story and answer student questions.
Carlos Bermudez, a member of KIPP LA's Board of Directors, focused on the KIPP character traits of "grit" and "love" during his emotional presentation in which he described his experience as a first-generation college student who lost both his mother and father by his freshman year in college. After his session, a student approached him with tears in her eyes and informed him that she had just lost her grandmother and that she was sorry for his loss. He told her that "loss is a part of life, and I'm glad you feel comfortable sharing that with me. You will lose loved ones, but you will keep going," at which point the little girl gave him a big hug.
KIPP LA's Black Leader Initiative Co-Chair and former NFL player, Spencer Paysinger, decided to champion the Guest Teacher Program because he "wanted to come back to [my] neighborhood and hopefully try to level the playing field when it comes to education, because at the end of the day these kids can do anything they want - they just need to see that it's been done by people who look like them and are from the same surroundings as them."
The impact of the program was immediate, as participants received a thank you note from an eighth-grade student following the presentations stating that "my peers and I are constantly discovering ways to become better people. We thank you for taking time out of your day to encourage, inspire, and inform us in regards to your career. It means a lot and we truly appreciate you."
Elizabeth Stewart, Black Leader Philanthropy Initiative Co-Chair, is optimistic about the future of the Latinx and Black Leader committees and hopes to "create a pool of people who become more involved on a regular basis and continue to do the Guest Teacher Program, but also think about other ways to get involved with KIPP."
If you or someone you know may be interested in connecting to the Latinx and Black Leader Philanthropy Initiatives at KIPP LA, please reach out to KIPP LA's Leadership Giving Officer Alexia Valencia at
avalencia@kippla.org
or
323-219-5330.