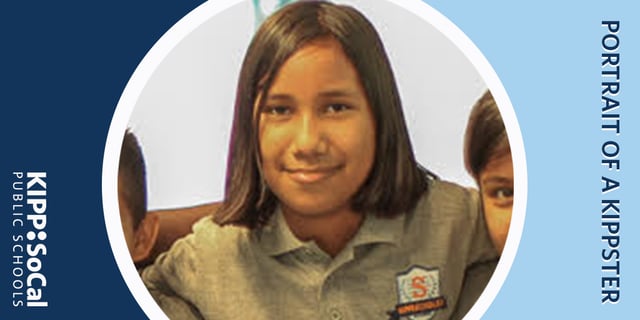 Portrait of a KIPPster is a photoblog of glimpses into the stories and moments that give us pause and purpose.
"It was the spring of 2011 and I was an ambitious middle school founder, desperately looking for students and families willing to join KIPP Scholar Academy. We didn't have a building, we were fully staffed, but we were unified by a mission to see South LA scholars go To and Through College!
One spring afternoon, I was outdoors recruiting students and families, which was my daily routine, and I came across a vibrant, intelligent and impressive 4th grader named Ashley Alvarez. I told her and her mother all about KIPP and what we have achieved over the years. We talked about college acceptance and matriculation data, KTC, our college-going school culture and most importantly the 5th grade EOY Trio to San Diego. That part of the sales pitch always sealed the deal for the kids.
With well-founded reservations and hesitation, Mrs. Erica Valente allowed her daughter to make history and found KSA as a 5th grader. Ashley was a stellar student and earned every award and honor a scholar could earn. She was a joy to teach and lead.
Ashley earned a full-ride scholarship to Phillips Academy Andover in Massachusetts. Nervous and apprehensive, her mother allowed her to attend because she didn't want to withhold any excellent opportunity from her daughter. She expanded her world view and took advantage of every opportunity Andover had to offer her.
This past Thursday evening, Ashley sent me the best text message I've ever received. "Hi. Mrs. Moore, it's Ashley. I got accepted to Harvard!!!" Our founders are seniors in high school and our first acceptance on record is to Harvard University. I am grateful for every teacher who has taught her, every KTC member who has counseled her, every member of the SSC who helped to knock down hurdles so that she could have this opportunity. "
Tiffany Moore, KIPP Scholar Academy, School Leader