Over the past year, the Mental Health & Support Services team at KIPP LA Public Schools developed a new suicide prevention and awareness lesson called "We Support Each Other!" The lesson was implemented in seventh and eighth-grade middle school classrooms during September, which is National Suicide Prevention Awareness month. Managing Director of Student Services, Kim Dammann, explained that the decision to create a lesson in-house "stems from quality control. We want to have control over the instruction that our students have. It's about doing what's right for our students."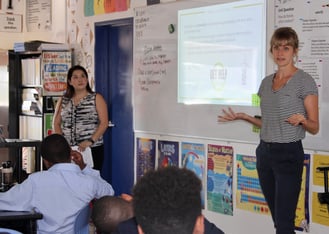 During the interactive, 45-minute lesson plan, students viewed videos about suicide prevention, learned key statistics and myths about suicide, discovered the causes and protective factors of suicide - including defining "depression," identifying a list of trusted adults, and responding to a friend's warning signs - and collaborated with their peers to uncover their top stressors and ways to manage stress.
Eighth-grade students at KIPP Scholar Academy in South Los Angeles noted stressors of peer pressure, parent expectations, bullying, reputation, and academics including high school and college admissions. Counselors Sandra Alvarez and Annie Patterson, who led the session, reinforced their commitment to keeping students safe and healthy, and ensured that their doors were always open to talk about stressors in students' lives.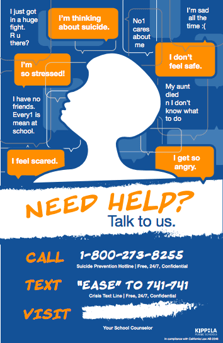 With the passing of Assembly Bill 2246, the state law that requires California schools to provide prevention and intervention curriculum for students in seventh through twelfth grade, along with the recent suicides in Rancho Cucamonga, it has become even more imperative for schools to prioritize proactive and broad approaches to promote positive emotional and social development in schools.
In addition to the classroom lesson, KIPP LA has invested in greater training for teachers, school leadership, and after-school coordinators in understanding the warning signs of depression and suicide, providing information to families that dispel myths about suicide, and creating posters (right) for schools with Suicide Prevention Hotline and Crisis Text Line information.
If you or someone you know is exhibiting signs of depression or suicide, please take the following action: